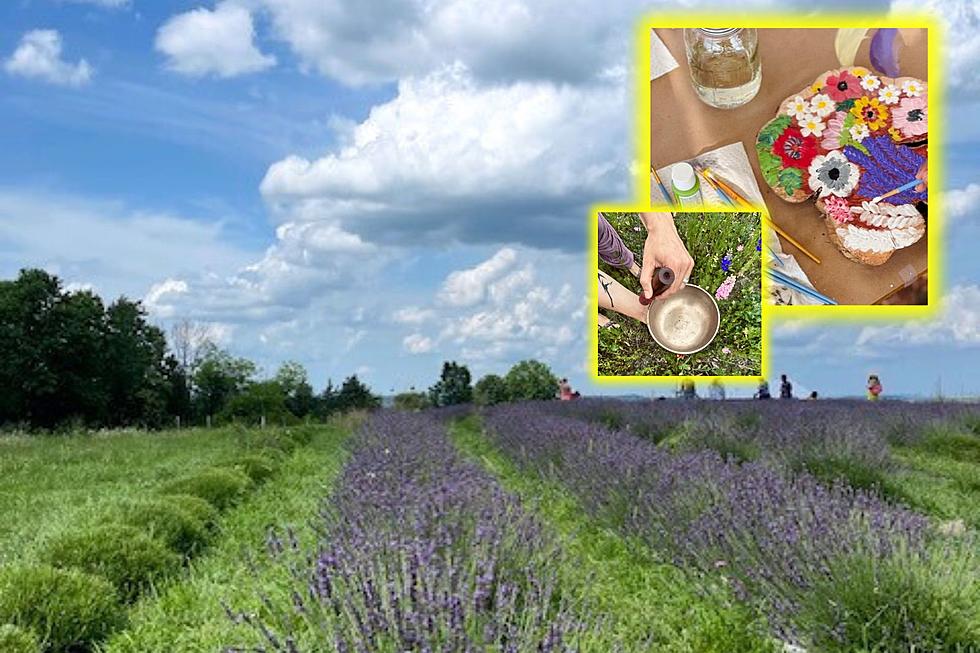 Sound Baths, Flower Painting And More At Hudson Valley Lavender Farm
Canva, Lavenwood Farms, Facebook
At times, the Hudson Valley's beauty can remind us of a movie scene or painting. Anytime that I drive past a farm with a red barn and see the bright green fields with blue skies, I remind myself of how beautiful it is to live in the Hudson Valley.
On a daily basis, we can experience the scenery, mountains, fields and waterfalls that remind us of pictures that we may have noticed before. We can experience a scenic drive, an event or unique class happening in the Hudson Valley that allows us to soak up the bliss in the Hudson Valley.
Hudson Valley Farms, Businesses And Landmarks Offer Unique Events
The largest cat can be found in the Hudson Valley, at an animal sanctuary. On site, there are also exciting events that have included 'body-slamming, pro-wrestling' and dinosaurs.
An interactive butterfly experience is possible at a Hudson Valley nature center.
A National Historic Landmark brought live music events in the Hudson Valley. History buffs and music lovers can come together in a beautiful space outdoors.
Did You Know The Hudson Valley Has A Lavender Farm?
I was told that the Hudson Valley has a lavender farm and I had to visit it myself. Upon arrival, I was greeted by a relaxing smell of lavender, the views of greenery, flowers and insects. The farm was peaceful, tranquil and serene, I knew I made the right choice by visiting this farm.
I had the chance to pick lavender from the fields, soak up the beauty of the property and learn about other unique classes and events that they would be having so that I could visit again.
Lavenwood Farms Is Located In Orange County, NY

The Hudson Valley now has a new lavender farm also known for being a cut flower farm too. Lavenwood Farms has u-pick wildflowers, u-pick lavender and u-pick cut flowers.
Those interested in a farm dinner, photoshoot field rental and event rental can also experience Lavenwood Farms and all that it has to offer. 
Lavenwood Farms workshops and events caught my attention, they are unique.
A Hudson Valley Lavender Farm Offers Unique Events And Workshops
The events and workshops at Lavenwood Farms happen in the flower field with a covered farm shop. Their classes and events are guided by artists and practitioners who support the guests during their creative session.
The following will take place at Lavenwood Farms starting August 2, 2023.
Sound Bath/Guided Meditation
This is for all levels on August 3, 2023 at 6:30pm with Alexandra (@mindfulwilderness)
Flower Painting
This is for all levels on August 6, 2023 at 10am with Berline (@create_and_chill )
Pressed Flower Frames
This is for all levels on August 17, 2023 at 5:30pm with Samantha (@lakefrontfloral )
Botanical Dye/ Eco Printing
This is for all levels on August 19, 2023 and August 20, 2023 at 10am with Alexandra + Lily (@mindfulwilderness @lily.paradise) 
Be sure to follow Lavenwood Farms to view calming pictures of their property, view their schedule of events, classes and workshops. 
Lavenwood Farms
98 Mountain Lodge Rd, Washingtonville, NY 10992
Have you ever been to a lavender farm before? Will you try out any of these workshops or attend the events at Lavenwood Farms? Tell me more below.
Escape To This Enchanting Hudson Valley Treehouse
When searching for something different, fun and peaceful to experience in the Hudson Valley, guests don't have to look far.
A Hudson Valley treecastle provides a space unlike any other Airbnb.
5 Must See Scenic Drives In The Hudson Valley
When was the last time that you took the scenic route or the back road? There's something so peaceful about taking in the views of the beautiful farmland and the smells of fresh grass with the windows down.
The next time that you're out for a drive, take one of these scenic routes to capture the beauty of the area that we get to call home.
.
More From Hudson Valley Post